CHEMICAL REAGENTS
We offer a wide range of products to cover the requirements of all types of industries:
Agriculture

Biotech

Cement

Chemistry

Cosmetics

Electronics

Environmental

Feed

Food and beverage

Hospitals

Metal

Mining

Oil

Petrochemistry

Pharma

Polymers

Research

Water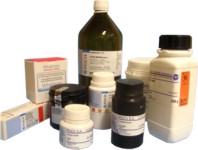 In response to the various application and requirements that laboratory chemicals need to fulfill, we offer our customers a wide variety of grades for both, general and specific solvents and reagents.
General grades: Reagent, Extra Pure, Synthesis grade, Pharmacopoeia
Reagent grade
This is the most frequently used grade for laboratory analytical work and corresponds to a grade of high quality chemicals for laboratory and specialized industrial use. The range of reagent grade products includes solvents, salts, acids and bases, solutions and mixtures. Analytical methods uses for these determinations are based on standard test procedures as described in technical publications.
Extra Pure
The putrity specification are usually less strict than those of the reagent grade but are significantly higher than industrial products. Such products are preferentially used in the pharmaceutical industry, either as a reagent or as raw materials for production. The range of extra pure products includes solvents, salts, acids and bases, solutions and mixtures.
Synthesis grade
A grade of chemicals for laboratory use which includes solvents and reagents and which are used in organic synthesis and for routine research, where the higher analytical grade is not required.
Pharmacopeia
Chemicals that comply with Pharmacopeial Monographies. Products comply wuth PH Eur, USP (or other pharmacopeias) indicating that their specifications meet the European or American Pharmacopoeia.
Specific Grades: UHPLC, LC-MS, HPLC: Supergradient, Gradient, Isocratic
__________________________________
For more information please contact:
Agnieszka Stanisławek,
Account Manager
phone 48 71 381 25 12
mobile  48 531 118 222